Making Selling Easy with NLP …

Next running: Thurs 19th Oct & Fri 20th Oct 2017
(check out our course schedule page for further dates)
We are delighted to announce a date for all of those people who have been asking us to put on a NLP in Sales/How to get clients course!
We have proved time and time again that by using NLP in sales you can increase performance and revenue AND customer satisfaction. We always have a  fabulous two days and delegates learn a lot about sales and marketing AND  make immediate progress in their business.
One student took £6000 of income in the days after one of our courses!!
So Why Would this NLP in Sales Course Be Useful?
Do you struggle with selling yourself or products?
 Are you a Coach who is not getting enough business?
 Are you a Trainer who is not getting enough delegates?
Are you a Therapist who is not getting enough clients?
Do you want to increase your income by learning how to sell?
 Have you not set up your own business because of a fear of selling?
The biggest problem people have when operating a small business is their aversion to sales. Some people think it is a dirty word and some think that sales means pushy. Some think that people will buy from them without sales and some people don't want to 'dirty' their hands with selling!
Well, allow me to put all the above into context.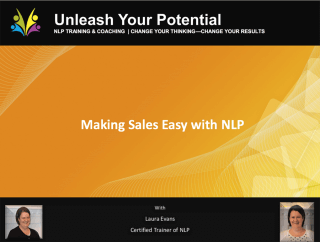 Unless you LOVE selling (and you can) then you will not achieve your potential in business.
Unless you are confident with selling then your business cannot grow.
Unless you become elegant at selling then you may well go out of business.
Selling is the life blood of your business – whether you are coaching on the side, or a full time therapist or a trainer, you will struggle unless you are really comfortable with selling yourself and your products.
So what will you learn on this NLP Course?
During these two days you can …
Learn how to be elegant with sales and have fun with it
Learn how to apply the process of selling to your everyday work
Learn how to turn an enquiry into a sale
Learn how to 'tune' yourself mentally in order to sell
Learn how to make selling easy and second nature
Learn how to apply your NLP knowledge to make selling even easier
Understand how much a sales enquiry costs you and how to maximise it!
Learn about how to market your business
Learn how to make your marketing dollars work better!
I have been in sales in one way or another all my life (whether it was selling ideas/concepts or products/services) …. here are two days where I will pass onto you my knowledge of sales & marketing and NLP combined.
To be honest, if you are in business, or want to be in business, and wish to improve your revenue then this course is a no brainer!
Who can attend?
That's simple! NLP Practitioners, Master Practitioners or NLP Trainers
The Investment
The investment for these invaluable two days is £500 OR if you book the "How to Start & Run your Own Succesful NLP Business" course and the "Making Sales Easy with NLP" course as a package you can purchase both courses for £750.
The return on that investment could potentially be enormous! The thing is, can you afford NOT to do it!?
Venue
The venue will be in Cardiff.
SO, what would happen if you attended?
Well, first ask yourself the question, how many incremental sales will it take for you to get your money back on this course? One more client? Half a client?
This NLP training delivers exceptional value for money and a potentially massive return on investment.
How much extra revenue would you generate if you increased your sales by 20%, 30%, 40%, 100%, 1000%?
Now does that appeal?!
How to Book
This course will be strictly limited to 14 people so it is very much a first come, first served course.
From the amount of requests I have had to run further sales courses I have no doubt it will sell out straightaway.
So if you want to be one of the fortunate few who will learn the tools to increase their revenue in 2 days easily and effortlessly call now to book 02920 023311