Unleash Your Potential offer Hypnosis courses at Practitioner and Master Practitioner level. All courses are approved by the American Board on Hypnotherapy.
Why learn Hypnosis?
• Creating desired changes in behaviour at an unconscious level
• Encouraging mental and physical wellbeing
• Cementing in NLP changes at the end of a coaching session
• Overcoming long term habits such as confidence, smoking etc
• Enabling you to engage the power of your mind in a healthy and positive way
Your Training
As with all our courses, we focus on practical hands-on practice right from the start. You learn from experienced trainers who explain each technique to you. As with all our courses, we equip you with the knowledge and understanding so you can practice on the course under the watchful eye of your trainer, building confidence as you work logically through the sections of the course. You'll find the 2 days very practical, fascinating, with maximum 'hands-on' experience and exciting! You will find that you can successfully use hypnosis after only 2 days with us.
How do we teach it in 2 days? – Simple. Hypnosis is about precision language and rapport. To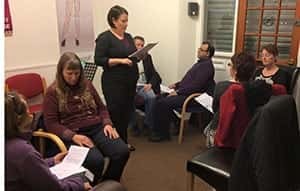 enable us to teach hypnosis in this time frame, we only accept graduates of our NLP Practitioner program (or other training providers known personally to Unleash Your Potential Ltd). This means we know that delegates have the language skills and rapport skills necessary to be great at hypnosis.
What is Hypnosis?
It's simply a state of relaxation and has been around for many hundreds of thousands of years. It's an altered state of consciousness which enables the mind to be open to suggestion. It's widely accepted as a method for helping people make changes at the unconscious level (because the unconscious mind drives our behaviour, this means changes take place faster than with other talking therapies such as counselling). By engaging the unconscious, creative part of the brain, the mind is given suggestions that it can choose to take in order to bring about the desired results.
The effectiveness of Hypnosis is directly related to the ability of the Hypnotherapist to influence the unconscious mind. All hypnosis is in fact self-hypnosis and this means that the client is always in charge – if a hypnotherapist make a suggestion that is against the values of the client, the client will not take them on board and often a suggestion against someone's values is the fastest way to bring someone out of hypnosis (although we don't advocate this!).
NLP and Time Line Therapy are advanced ways of using hypnotic techniques for helping people change quickly without the need for a formal hypnotic induction. Hypnosis has been scientifically proven to be effective in in cases if smoking, weight loss, stress reduction, motivation and pain control.
To read more about what hypnosis is click here ….
What is different about OUR Hypnosis course …
Milton H Erickson was one of the greatest hypnotherapists of all time. When Erickson practiced Hypnosis he did not use scripts. The problem with many many Hypnosis courses out there is that they teach their students to be reliant of scripts – I've met many Hypnotherapy Practitioners who openly tell me that they struggle to do Hypnosis unless they have a script to follow. They are not taught how to tailor their hypnosis to their client which significantly increases their ability to bring about change in their client. Our view is that there is no art in simply reading a script!
We follow the school of thought that our students should be taught how to do Hypnosis like the great Milton Erickson would have taught it. To ensure delegates have a grasp of language that they are able to design and deliver trances without pages of scripts. What experience tells us is that once people 'ditch the scripts' their delivery and effectiveness increases massively. Whilst to start with we allow students to use the comfort blanket of a script, we quickly encourage students to personalise hypnosis and they start to do this confidently by the end of the course.
Your Trainer …
Laura Evans, our Lead Trainer is a certified Trainer of Hypnosis (as well as being a Trainer of all the other disciplines we teach at Unleash Your Potential). Laura is a Trainer Member of the ABH (American Board of Hypnosis). She is the only ABH Trainer of Hypnosis in Wales. Unlike many other providers, Unleash Your Potential offers the full suite of NLP, Hypnosis and Time Line Therapy courses which means our students are better equipped in many cases to help their clients.
Course Content – Practitioner
The History
How to Pre-frame
The Fundamentals of Ericksonian Hypnosis
Patterns of Indirect Suggestion
The Preparation for Trance
Stages of Hypnosis
Suggestibility test
How to design Ericksonian Inductions
How to deliver personalised Ericksonian Inductions
General Pendulum Paradigm
Deepening Techniques personalised to the client
Contraindications for Hypnosis
Post Hypnotic Suggestions
Ethics in Hypnosis
Please note that to attend this  course you will already hold an NLP Practitioner certificate with Unleash Your Potential (or a provider known to Unleash Your Potential). The Hypnosis Practitioner courses are run back to back with our Time Line Therapy™ courses and attending both courses is a requirement.
Course Content – Master Practitioner
Please note Hypnosis Master Practitioner is INCLUDED on our Masters Program along with Master Time Line Therapy, Master NLP Practitioner and NLP Master Coach.
Multiple Embedded Metaphors refreshed
Progressive Induction
Depending Techniques
Introduction to Elman and Estabrook – direct authoritarian approach
Elements of an Elman Induction
The Elman Pre-talk
Elman Hypnotic Inductions
The stages of hypnosis – revisited
Elaman's stages of trance
Dave Elman Inductions
Convincers
Post Hypnotic Suggestions with Amnesia